Peter-Paul Koch — mobile platform strategist, consultant, and trainer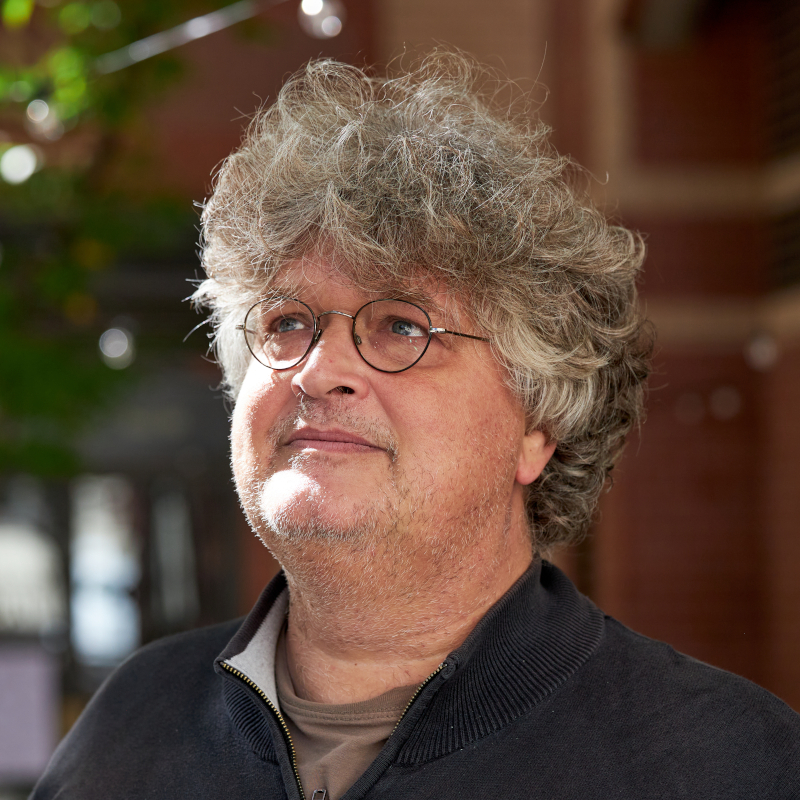 Photo by Roberto Vincitore.
Peter-Paul Koch is a mobile platform strategist, browser researcher, consultant, and trainer in Amsterdam, the Netherlands. He specialises in the mobile web, and especially mobile browser research.
He won international renown with his browser compatibility research and his publications on this site and others, frequently speaks at conferences, has founded Fronteers, the Dutch association of front-end professionals, and advises mobile and desktop browser vendors on their implementation of Web standards.
In 2009 he shifted from traditional desktop browsers and sites to the mobile Web. Meanwhile he has become a thought leader on the specifcally mobile aspects of these browsers: the viewport and the touch events.
On the Web he is universally known as ppk.
You can always get in touch with him to discuss interesting mobile projects or consultancy.
Current work
Currently Peter-Paul Koch focuses on the following:
Helping major clients talk to web developers in a way web developers like and understand.
Researching the properties of mobile browsers that make them different from desktop browsers; see below.
Devising systems to measure performance in real-time; i.e. while real-world users with real-world odd devices actually use his clients' websites.
Figuring out how web development headed off on the wrong track, and what to do about it. See these blog posts.
Organising conferences.
On properties of mobile browsers: these come down to the touch events (what exactly happens when the user touches the screen of a touchscreen browser?) and the viewports, which define how much space mobile websites have on these browsers. For instance, what happens when a mobile browser shows a responsive design but one of the elements in that design is too wide for the screen? He has become a specialist of sorts in viewport-related topics, mostly because he was the first to study and describe them.
Professional career
Peter-Paul Koch has been a professional front-end engineer since 1998. He focused on HTML, CSS, JavaScript, and browser compatibility even when doing so was not yet fashionable.
After having worked professionally for a few months he concluded that there was no website that provided the precise, correct, hype-free browser compatibility information he needed, so he founded his own site in 1998 and started testing browsers. This project eventually grew into QuirksMode.org, which was launched in 2003 and revised in 2006.
In 1999 he persuaded his bosses that front-end engineering is a separate technical discipline; a fact that registered on very few radars back then. He became lead front-end engineer at Netlinq Framfab, then with 150 employees the second-largest Dutch website creation company.
In this function he helped the ten or so front-end developers he led make the transition from table-based layouts to CSS-based ones. Although back then the state of the browsers precluded making full use of CSS's capabilities, the front-end team made a dedicated effort to use as much CSS as possible, something that was unusual back then, especially in larger companies.
He went freelance in 2002, creating clean HTML/CSS templates for national and international clients. He also helped several companies make the transition to full CSS by his training courses.
In 2008 he stopped creating websites himself and focused on teaching others how to create websites through his consultancy and training.
In 2009 he started working on the mobile web as consultant, trainer and browser compatibility researcher. Initially he mostly worked for Vodafone; meanwhile he has diversified his client portfolio.
Since 2009 he has become something of a worldwide expert on viewport-related questions; mostly because he was the first to study them systematically and because he generally knows more about their overall implementation than browser vendors do.
QuirksMode.org
Hell is other browsers — Sartre
Peter-Paul Koch has been running QuirksMode.org and its predecessors since 1998.
It is the prime source for browser compatibility information on the Internet, mainly thanks to the Compatibility Tables, where front-end engineers from all over the world find hype-free assessments of the major browsers' CSS and JavaScript capabilities, as well as their adherence to the W3C standards.
In March 2011 QuirksMode.org went over 1 million hits per month for the first time.
On his influential QuirksBlog Peter-Paul Koch follows the browser market, advances in front-end technology and theory, and related topics. Increasingly, he blogs about the mobile Web and its unique problems.
Writing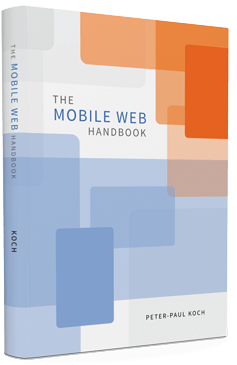 The Mobile Web Handbook, Smashing Magazine, 2014; Peter-Paul Koch's second book.
Peter-Paul Koch has always been an avid writer, and, in addition to his site, has written technical articles for the Apple Developer Connection (2003; now disappeared) and the Opera Web Standards Curriculum (2008; now marked Obsolete for reasons I don't understand — the principles described here are still valid).
He has also published articles on influential e-zines such as A List Apart and Digital Web Magazine.
In 2006 his book ppk on JavaScript was published by Peachpit/New Riders. In 2012 he wrote a chapter for the Smashing Mobile Book.
In 2014 his second book, The Mobile Web Handbook, was published by Smashing Magazine.
Conferences
Upcoming conferences organised by Peter-Paul Koch:
Peter-Paul Koch is a frequent speaker at conferences in Europe and the US. He loves talking about modern front-end techniques and meeting web developers across the globe. He loves it even better when somebody else is paying his bills.
He also organises conferences in Amsterdam; initially as a volunteer for Fronteers, but nowadays he also does commercial conferences.
Fronteers
In 2007, Peter-Paul Koch initiated the founding of Fronteers, the Dutch organisation of front-end engineering professionals, which currently unites about 300 professionals.
Its main goal is to further professionalise Dutch front-end engineers by cooperating with educational institutions in the updating of their curricula, instating a form of certification, organising conferences and meet-ups, and participating in policy-setting bodies. Peter-Paul Koch was elected chairman in 2007 and resigned in 2012.
Fun facts
Peter-Paul Koch's education did not prepare him for front-end engineering at all. He studied Ancient History at the University of Amsterdam, specialising in the later Roman empire (5th century AD).
He has an excellent knowledge of history, and can, in all states of intoxication, give a short presentation on pretty much any topic in classical or Western European history until 1945.
He once considered writing a doctoral thesis on the Old-Norse Thidrekssaga and the theories of Heinz Ritter-Schaumburg. He wrote one scholarly article on that topic for a Dutch magazine and created his very first website (1998) to store the preliminary results of his research. He apologises for the frames. On the other hand, he's quite proud that this site uses some CSS.
He finished history teacher's training, but when no jobs were to be had he switched careers. A state-sponsored course threatened to turn him into an "Internet Advisor," but he ignored his teachers succesfully and trained himself as a front-end engineer. In 2009 he changed his focus to the mobile web.
Currently he has about thirty mobile phones lying around on his desk. The one thing he never does with any of these phones is place a phone call.
His grandfather on his father's side was a coffee planter on Java, so he is genetically predetermined to be an expert on most languages that have "Java" in their name.
His great-grandfather on his mother's side was a founder of the Neutral Party, so he is genetically predetermined to be the perfect neutral party in any browser conflict.
His compatibility tables are reliably estimated to have saved the global web developer population about € 5 million on hair transplants in 2007 alone.
He feels like Caesar when he talks about himself in the third person, but he will not conquer Gaul. More importantly, he will not write his memoirs in Latin.
Contrary to popular belief he did not invent the Thursday.