ppk on JavaScript - errata
This page contains the errata in "ppk on JavaScript".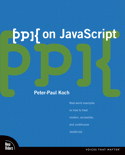 Back to the Book homepage.
Overhead
pp. iv and xvii: The page number of the Index in the Contents is wrong: should be 491 instead of 492.
Introduction
p. xix, first paragraph below the code example: "links" should not be in code style. I don't refer to <link> elements but to hyperlinks.
p. xx. This page should start with the header The example scripts.
Chapter 1: Purpose
p. 1, last paragraph. "Web standards movements" should be "Web standards movement", singular. There's only one movement, and it's headed by Molly.
p. 20, DHTML sidebar. 7A should be 9A.
p. 26, second paragraph. "acronym will and redefine"; "and" should be deleted.
Chapter 2: Context
p. 33, after "The three separations" header: "In the next sections we'll discuss..."
Chapter 3: Browsers
p. 92, after the second code block: "contains MSIE 5" should be "contains MSIE". The code doesn't check for the '5'.
Chapter 4: Preparation
p. 118, code example: quote omitted in third line.
counterClone.innerHTML = '<span>0</span>' +
Chapter 5: Core
Chapter 6: BOM
p. 248. "Now the status bar contains this text until the user mouses over another link." should be "Now the status bar contains this text until the user mouses out of the link."
p. 250. Link in lower sidebar should be www.quirksmode.org/js/popup.html, without the "s".
Chapter 7: Events
p. 283, third paragraph. "You can add event handler to any element.", singular.
p. 290, second paragraph. "The mousemove event", singular.
p. 315. This page says that cancelBubble = true only works in the Microsoft event model, but it turns out to work in all browsers. A retest is obviously necessary.
p. 333, first code example: e.type should be evt.type.
p. 334, code example. Obviously, this code example should have a line that checks if the event target has a certain nodeName. Right now the example doesn't fit the surrounding text too well.
p. 344, "gives them a custom relatedItem property to point to this <li>." Should be <ul> instead of <li>.
Chapter 8: DOM
Chapter 9: CSS modification
p. 430, sidebar. The example is replace(/ errorMessage/,''), but the all-important space between the "/" and the "e" is not very clear because it's at the end of a line.
p. 448, last paragraph of main text. "Table elements ought to have..." should be "Table rows ought to have...".
p. 458, last paragraph before header, "To get the width of the element including borders and scrollbars, use..."
Chapter 10: Data retrieval
p. 485, code example. x[i].onclick should be links[i].onclick.
Afterword: The future of JavaScript